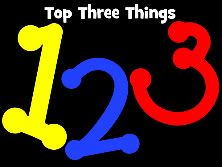 Simply 2nd Resources
is hosting a
Top 3 Linky Party
. What are the top 3 things that I want to work on this year? I'm not sure I could stop at 3! But here goes...
1.
Guided Math -
My district decided not to go with a math program last year and it was disastrous. Although, I do agree that what we had was not meeting the state standards and a change was necessary. The difficult part was that we were given the standards and a timeline that was mandatory...that's it. While we all made it through, I decided that it was not good enough so I read Debbie Diller's Math Work Stations. What an awesome read! I knew it was exactly what I needed and I hope that I can make it work for the students AND for my sanity!
2.
Technology
- I was fortunate enough to obtain an old SmartBoard. I don't care care how old it is, I'm just SOOO happy to have one! I took a SmartBoard class this summer and I can't wait to use the lessons I've both purchased and created. The Smart Lesson Stop has wonderful lessons.
3.
Morning Meeting
- Never did it but I have been inspired by Christina Bainbridge and really want to give it a try. Check out her site for more information. She's a fantastically organized teacher!